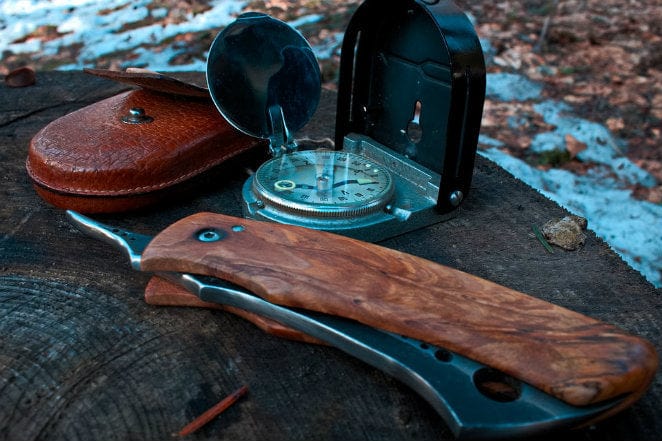 Indeed, survival tools can be given as Christmas gifts today. This yuletide season, people exchange gifts with one another to share some love. The tradition of giving gifts was inspired from the three kings that offered myrrh, incense, and gold on the day that Jesus was born. Thus, in the modern world, people bring presents to the people they love to share some kindness, mercy, and compassion.
There are various gift options that are available on the market today. You can buy home essentials, work accessories, apparels, books, food, and others. One of the best gifts that you can give at the moment is survival gadgets and tools which are very helpful especially during disasters.
Thus, check out these 10 best survival gadgets and tools that you can give to your friends and relatives as Christmas gifts now!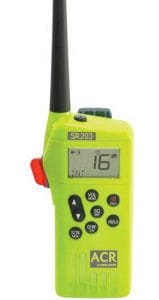 The first survival tool that you can give this Christmas is the ACR SR203 Survival Radio. This product is from the ACR Electronix Inc. The Company has been established in 1956 and since then, they have been developing emergency beacons. The military, air-force, navy, and even civilians use their products.
This survival radio meets the requirements of IMO especially for use of SOLAS vessels. During emergency situations, people can still use this survival radio.
The product is backlit which makes it perfect to use even in low-light conditions. Once you activate the radio, it will automatically tune-in to Channel 16 which is its emergency channel.
You can use the survival radio can for almost 16 hours. In addition, you can use it immediately even if you remove the protective labels. The battery is also made of lithium polymer which is non-hazardous.
This survival radio has 21 channels and it features an efficient transmitter during emergencies. Furthermore, the control buttons are laser-etched, unlike any other brands.
As to its specifications, the product measures 5.6" x 2.8" x 1.5" or 141 mm x 68 mm x 37 mm and it weighs about 13.0 ounces only. Its output power is 2.5 watts and it is 3.28 feet waterproof. The company also offers a one-year warranty on this product, thus grab this one now!
Check the current price on Amazon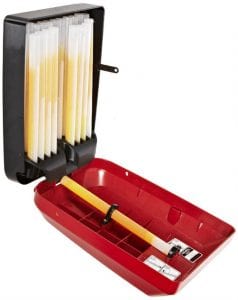 Apart from emergency kits and food packs, light sticks are one of the best Christmas presents for your relatives and friends. Thus, grab this Cyalume Model 20 Light Station now!
This is a good product for travel or during emergencies. The users can put it on the wall of the exits or at any area where there is little or no emergency lights at all. This merchandise is ideal for houses, hotels, and other buildings. In addition, each product has 10″ of SnapLight light sticks which provides 360-degrees of illumination and it is visible at a distance of 1 mile whether in smoky or foggy condition.
The light sticks are available in yellow color and it can work for almost 4 hours. The box has a seal and its design contains a heavy-duty plastic case. Moreover, the box is available in red color with a luminescent label that glows in the dark. When you open the front door of the product, automatically, one light stick activates and 19 light sticks are now ready for next use.
The product is non-toxic and phthalate free which is safe for use. It also has a five-year shelf life from manufacturing date. Meanwhile, the package dimension is 19.2″ x 15.4″ x 6.6″ and it weighs about 10.2 pounds only.
Get one now and make holiday seasons bright and merry!
Check the current price on Amazon
One of the best survival gears that you can give this Christmas is a tent from Kamp-Rite! Kamp-Rite has been founded in 1999 and they specialize in providing camping gears for their clients. Some of their products are the tents, camp furniture, camp kitchen, sleeping essentials, and disaster relief. One of their best-sellers is the Kamp-Rite Oversize Tent Cot. 
The tent cot stands 11 inches above the ground and the sleeping area measures 32″ x 90″. It protects its users from various elements and adds comfort in comparison with the traditional tents.
The Tent Cot of Kamp-Rite have a 190T high-quality Nylon material, mesh on the windows and doors, powder-coated aluminum steel frame, corrosion resistant zippers, and superior quality clips and buckles. The company also features multi-function hinge design and interior pouches for storage of other camping gears and valuables.
In addition, this tent cot includes four support legs for extra stability. Users can also convert it into a lounge chair whenever if they wish to chill and sleep under the stars. Furthermore, the tent can be put up in few minutes and it has a waterproof handbag so you can bring it anytime, anywhere!
As for the specifications, the tent has a capacity of up to 350 pounds. It weighs 32 pounds and it measures 90″ x 32″ x 47″ when set-up. When you fold the tent, it now measures 36″ x 34″ x 7″ only. Skip the yearly Christmas cards, bouquets, mugs, and ref magnets. Upgrade your Christmas gifts and buy your friends and relatives with this tent now!
Upgrade your Christmas gifts now and buy your friends and relatives with this tent now!
Check the current price on Amazon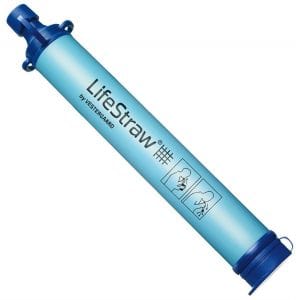 If you are looking for a water filter that you can use during disasters, international travel, and camping; then you can have the Lifestraw Personal Water Filter.
This product can filter up to 1,000 liters of filthy water and remove 99.99% of waterborne bacteria with its Hollow Filter Membrane. You can use this product and drink straight to the water source or a container. It does not require any batteries at all to function. Moreover, the water filter adheres to the guidelines set by the United States Environment Protection Agency (EPA).
Several humanitarian organizations use this water filter worldwide in aiding communities to recover from man-made or natural disasters.
The product comes with a string so you can bring it anywhere you go. It is available in Blue color only and it can last for up to 5 years with proper cleaning of filter and care for the product. As with the specs, the water filter measures 0.79″ x 0.79″ x 7.87″ and it weighs about 56 grams. Grab this product now and save a life by giving a chance to have an access to safe drinking water!
Check the current price on Amazon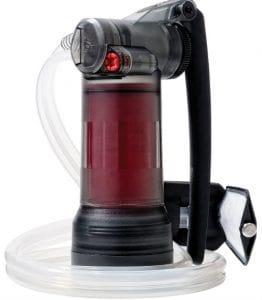 When traveling, the access to water can be challenging. Thus, a portable water purifier just like the MSR Guardian Purifier is a must-have for travelers or any other persons.
The MSR Guardian Purifier is a product of six years of research of the company. One of its features is the Hollow Fiber Technology which can treat up to 2.5 liters of water every minute (or 10,000 liters of water all in all) and be able to remove bacteria, viruses, and other water particulates.
Medical-grade fibers compose the Hollow Fiber Technology that can clean even the tiniest waterborne threats, unlike the conventional fiber technology.
Second, the MSR Guardian Purifier meets the National Science Foundation (NSF) protocol P248 testing standard for removing water impurities.
Third, the product has a self-cleaning feature, unlike other brands. On every stroke, the product uses 10% of its water and flush the contaminants back to the source. This means that it can consistently provide a fast flow of the water with zero hassle. In addition, it doesn't require any filter-scrubbing or bbackflushing anymore.
The MSR Guardian Purifier can also withstand freezing and drop testing. It can survive dropping up to 6 feet as per verification in the laboratory of MSR. As for the specifications, the water purifier is available in smoke color only. The product dimension is 12.25″ x 5″ x 5.25″ and it weighs about 2.3 pounds.
Truly, this water purifier is worth the money and it can last for many years, thus grab one now!
Check the current price on Amazon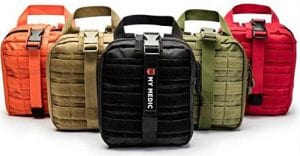 Another survival kit and tool that you should give today is the first aid kit from MyMedic. MyMedic Company has been established in 2011 and since then, they provide premium first aid kits to their clients.
You can use the MyMedic MyFak First Aid Kit Premium anytime, anywhere! It is a heavy-duty first aid kit with a handle and the material of the bag is from 1,000 Denier Ballistic Nylon. The opening is also an instance access rip-away Velcro and it also includes a detachable mesh pocket. Furthermore, the kit includes D-rings which you can use to attach a shoulder strap.
The first aid kit premium includes treatment/ medicines for bleeding, burn, clearing of the airway, sprain, and fracture. It also includes various topical and oral medication. Furthermore, the kit also includes a blanket, hydration, whistle, and other special items.
As with the specifications, the product dimensions is 4″ x 6.75″ x 7.75″ and it weighs about 3.21 pounds only. Try this product now and save a life!
Check the current price on Amazon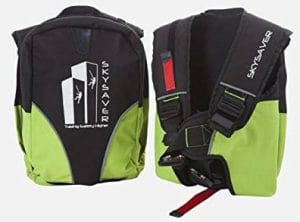 Another unique gift for Christmas is this building escape backpack from SkySaver. This is good for friends and relatives who live in multi-story buildings. It is a tool that you can use to escape whenever the emergency exits are inaccessible.
The SkySaver Inc. is located in New York City and the company has been founded in 2011. They focus on providing quality survival products especially for clients that live in high-rise buildings. Currently, they have 3 main products which are the SK 80, SK 120, and SK 260.
You don't have to undergo training to use this product. You just have to install professionally the anchor point, clip the edge of the cable on the anchor, strap the bag on your back, and descend through a unique braking system.  In addition, the product includes 260 feet fire-resistant cable.
As for the specification, the product weighs about 26 pounds and it can carry 66 to 264 pounds or 30 to 120 kg of weight. It meets the standards of ANSI and ASTM International. Prepare yourself or your family for any possible accidents that might happen because you'll never know when the future, thus grab this SkySaver 260 product now!
Check the current price on Amazon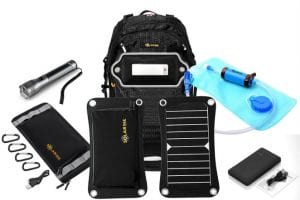 If you are looking for a backpack that harness the solar energy, then the SolarSak Infinity Survival Kit must be on top of your list!
The SolarSak survival kit relies on the heat of the sun for power. The bag pack includes a rain cover, whistle, and reflective patches. It also includes an adjustable suspension, EVA foam straps, external mesh panel, and water-resistant and breathable rip stop Nylon.
In addition, the product includes an attachable water filtration system that features a hollow fiber membrane technology. Customers can use this water filter for hiking, camping, or any outdoor activities. It also includes a 2L hydration bladder.
The product contains a USB charging port, a 10,000 mah battery pack, a control panel which is touch-sensitive for LED light, and 10 pcs LED chips. You can also adjust the item into 3 modes which are high brightness, low brightness, and SOS or emergency light. Lastly, the product includes 10W sun piece which you can attach to any backpacks.
This solar backpack is easy to use and there's a manual available for directions especially for first-time users. Grab this backpack now and harness the sun's power even during disasters and emergencies now!
Check the current price on Amazon
(You can also check this article regarding Solar Powered Backpack: Aquanetics H20 HYDRO Reviews: Solar Powered Water Filtration Backpack)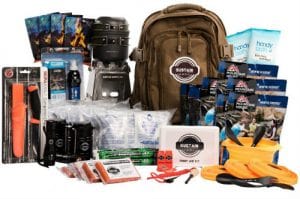 We cannot predict when disaster would happen, thus it is always better to prepare. One of the best Christmas gifts that you can give to your friends and relatives is this Sustain Supply Co. Premium Survival Emergency Kit.
This product is available for either 2 or 4 people and it can last for 72 hours or three days. It includes whistles, InstaFire tinder, flashlights/ light sticks from Cyalume Light Sticks, Ferrocerium rod, MoraKniv knife, bowls, utensils, portable stove, emergency blankets, packets of water by Datrex Emergency Water, and food servings from Mountain House Dried Food. In addition, the bag also contains first aid kit such as bandages, ointment, pain relievers, gauze, tape, sanitary gloves, and a guide.
The bag is premium quality and it has three storage layers to organize everything. Furthermore, there is still plenty of room inside the bag to add more items you wish to include in the survival emergency kit.
As to the specifications, the bag measures 16″ x 12″ x 20″ and it weighs about 22.4 pounds. Make your friends and relatives' Christmas happy by surprising him with this survival emergency kit now!
Check the current price on Amazon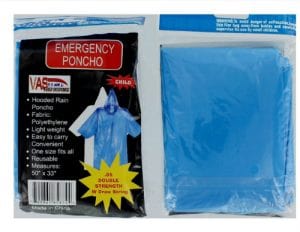 The last awesome and very helpful survival gear to give this Christmas is this Emergency Rain Poncho from Vas First Response.
This product is available in two sizes: one for children (40″ x 60″) and one for adults (50″ x 80″). This is also a one-size fit all product.
This product features double strength, unlike any other brands. It includes a hood, sleeves, and drawstrings. The product is also individually wrapped. It is made of Polyethylene and it is reusable. You can keep it at your home, at your car, or at your bag and use it anytime, anywhere! Furthermore, the product is available in two colors which are blue and transparent.
We don't want to get wet in going to school or at work, thus, make sure to include this rain ponchos in your Christmas gifts to give now!
Check the current price on Amazon
Conclusion
In sum, these are the top 10 survival tools that you can buy as Christmas gifts for your friends and relatives now. It can work best during disasters, emergencies, or when traveling outdoors. There are various choices in the market and you just have to be creative in finding for the best one. Don't forget to add some personal note together with the gift to make it more personal and memorable! Share love this holiday season and be merry!