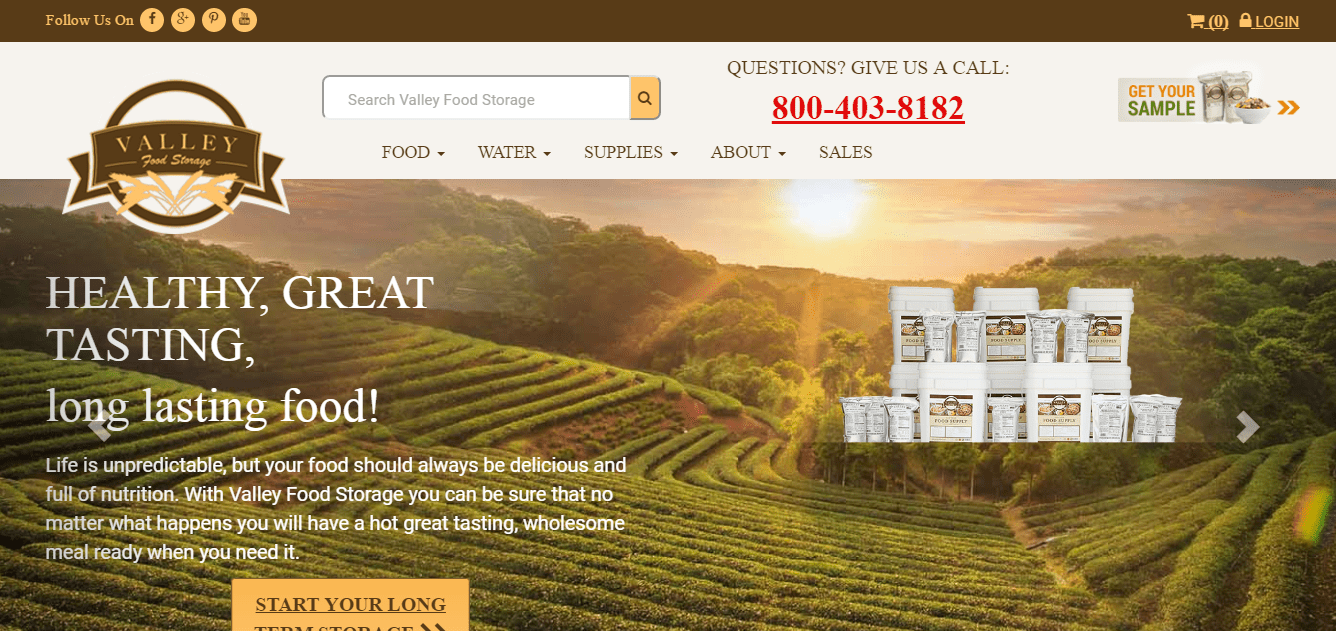 Before we dive into Valley Food Storage, it's important to understand the storage life of foods. Throughout the history of mankind, science has searched into the realms of the unknown. Along with it bringing new discoveries, allowing for our lives to become healthier, more efficient, safer, and at the same time, possibly more dangerous. Among the forces driving scientists into these many experiments, is the desire to preserve the one fuel that keeps our lives going; FOOD.
Proper food storage helps maintain food quality by retaining flavor, color, texture, and nutrients while reducing the chance of contracting a food-borne illness.
There is no exact method to determine how long a food will maintain quality and be safe to eat because many conditions affect quality. The storage life of foods is affected by the:
freshness of the food when it reached the grocery store

the length of time and the temperature at which it was held before purchase

the temperature of your food storage areas

the humidity level in your food storage areas

type of storage container or packaging the food is stored in

characteristics of the food item
Packing your own food storage can be a very rewarding way to becoming self-sufficient in light of challenges that we can be faced with. These could include loss of work or income, disability, natural disasters, and even political upheaval and unrest.
The most important step to prepare for the unexpected is to start today and do something. And securing the necessities of life is a crucial step toward personal independence. Remember, store only fresh food with a moisture content of 10% or less in an oxygen free environment.
A popular way of guarding against disasters can come in many forms: tornadoes, forest fires, earthquakes, hurricanes, and blizzards is storing food at home. Any of which may leave you without access to a food source, sometimes for a considerable amount of time.
This is called Long Term Food Storage, Emergency Essentials, or Emergency Survival Foods. There are dozens of companies selling food specifically for this purpose. The best have great tasting products with a long storage life at a reasonable cost.
One of the considerably reputable in making the best tasting and wholesome meal in the country is Valley Food Storage.
Valley Food Storage is a company committed to providing top-of-line products. They do not use any hydrogenated oils or syrups; their products do not have any GMO and have zero trans fat.
It offers high-quality products with all natural ingredients at a reasonable cost. Hard to beat. No shipping fees.
Their great selection includes many specialty diet foods including gluten free, no MSG, no fillers, dairy free products, and DIY kits.
They offer a 100% money-back guarantee and a 25-year shelf life. All of their products are made in the USA. Valley Food Storage has unique packaging to keep their products fresh and protected from spoiling.
Currently, have 18 healthy ready-to-go recipes that are packaged in thick mylar pouches because of its thickness and durability to ensure a 25-year shelf life and it's ability to protect from water. It is available in two sizes; a large 5 serving pouch for a meal ideal for two people, and a smaller 2 serving pouch perfect for backpackers.Their silver packaging also prevents products from heating up and spoiling. Each pouch is Nitrogen flushed.
The Products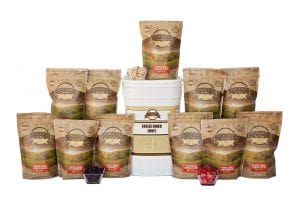 Valley Food Storage offers a variety of meals and supplies for food storage, emergency preparedness, and camping. The variety of delicious meals for break, lunch, dinner, and sides is impressive. Here are some of the following:
Pasta Primavera
The Pasta Primavera from Valley Food Storage is a creamy penne pasta dish with bits of broccoli and peas that provides as much as 360 calories and 7 grams of protein per serving. Made with a thick white Primavera Sauce. You'll get just the right amount of vegetables in every bite. It is one of their recipes that is not dairy or gluten free, but it does use natural sea salt for flavor.
The instructions are clear, the portions are clearly labeled, and the nutritional information is plainly displayed. The calories/serving are pretty decent for "Prepper food".
Preparing the Pasta Primavera is really very easy. To make the 2-serving dish, simply bring 2-cups of water up to a rolling boil as specified in the directions, then whisk the contents of the pouch into the pot and turn the flame down. After cooking 15 minutes at a gentle boil, and stirring occasionally, turn the flame off and let it stand for another 7 minutes. You can add a parmesan cheese after (optional).
Dairy Free: No

Gluten Free: No

Gluten Free: No

Hand sealed inside a Nitrogen flushed Mylar Pouch.

25 Year Shelf Life

No MSG, No Trans Fats, No Cholesterol

Servings per Bag: 5

Servings per Case: 100
Mango Habanero Chili
The dehydrated food comes in a standard resealable pouch and happens to be nitrogen flushed – which goes a long way in keeping the food ready for use for up to 25 years. These dehydrated meals are certainly bona fide chili. Mango Habanero Chili can have a little tropical zest in your emergency food storage.
An extremely flavorful dish full of savory spices that will delight those who like a little kick on their chili. Full of red and green peppers they are not stingy with the Habanero Powder.  Add in some dehydrated ground beef or turkey to give it a little something extra.
Dairy Free: Yes

Gluten Free: Yes

Gluten Free: Yes

Hand sealed inside a Nitrogen flushed Mylar Pouch.

25 Year Shelf Life

No MSG, No Trans Fats, No Cholesterol

Servings per Bag: 5

Servings per Case: 100
Chicken A La King
Chicken à la King is a timeless classic. A rich creamy white sauce mixed with rice and vegetables. Everything you need is in the bag you could add chicken and extra fresh vegetables to it and serve it at a dinner party, nobody will believe it just added water and came from a bag in the food storage room.
Just add some chicken and you have one delicious meal. With the unpredictability of the world we live in, it is important to be prepared. Whether it is a natural disaster that temporarily leaves you with limited resources, a pre-planned family camping trip, or just purely a matter of convenience, having an ample amount of dehydrated food storage is never a bad idea.
Dairy Free: Yes

Gluten Free: Yes

Gluten Free: Yes

Hand sealed inside a Nitrogen flushed Mylar Pouch.

25 Year Shelf Life

No MSG, No Trans Fats, No Cholesterol

Servings per Bag: 5

Servings per Case: 100
Irish Pub Style Cheddar Potato Soup
A rich creamy flavor will keep you warm and cozy in all the right ways. Each bite is full of vegetables and a rich cheddar taste. This is a variation on potato soup with visible square potato flakes in the pouch. A cooking tip is to give the pouch contents another good stir before serving, just due to the potato flakes settling during rehydration.
Dairy Free: No

Gluten Free: No

Gluten Free: No

Hand sealed inside a Nitrogen flushed Mylar Pouch.

25 Year Shelf Life

No MSG, No Trans Fats, No Cholesterol

Servings per Bag: 5

Servings per Case: 100
Why decide on Valley Food Storage?
Valley Food Storage puts their nutritional content label right on the packaging. Every ingredient is listed so there is no guesswork. The ingredients are actually pronounceable & easily understood. That is a far cry from other food supplies catering to the same niche.
They actually offer you real food where many of the other suppliers concentrate on inferior products which not only hinder your health but also taste awful!
If you want to build a food supply for emergency scenarios or you want a tasty meal to have on the trail with you; take a closer look at Valley Food Storage.
SPECS ON VALLEY FOOD STORAGE PRODUCTS:
Made In The USA

No Hydrogenated Oils

No GMO

No MSG

No Trans Fats

Gluten-Free

No Fillers

HIGH-QUALITY BAGS – Our Mylar Bags are Airtight and Resealable

25 Year Shelf Life

Free Shipping

100% satisfaction guarantee
10 Benefits of Using Freeze Dried Foods for Food Storage Plans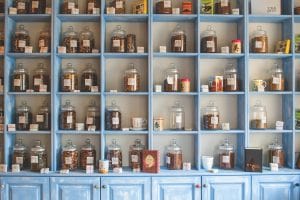 It seems that nowadays, everything takes its toll on the nation's food supply. From climate change, natural disasters to emergency situations… these things can all hinder your ability to shop for food the way you usually would. Having a long term food storage supply could mean the difference between making it through the crisis in good health, and passing away from starvation.
No matter what your purpose is for starting your food storage plan, you need to ensure that you have enough food to feed your entire family if a disaster strikes. Here are 10 advantages to adding freeze dried food to your food storage plan:
1. Fantastic Flavors
Freeze-dried entrees are prepared by gourmet chefs. This means that the foods are prepared using amazing recipes and only high-quality ingredients. The freeze drying process essentially freezes the flavors in place, retaining the original natural flavors.
2. Looks Fresh
When food is freeze-dried, the process also freezes the original texture and shape in place. These foods never shrivel or shrink during processing. Using low temperatures to remove moisture helps to keep the food fibers and moisture channels intact.
3. Good Nutritional Value
Foods that are flash frozen retain their nutritional value, including the original amount of minerals and vitamins. This is because, unlike processed foods, they are flash frozen using low temperatures, which doesn't strip the foods of nutrients.
4. Shelf Life
Even when stored at room temperature, most of these foods have a shelf life of more than 25 years. There's no need to rotate these foods because there's no need to worry about them spoiling for more than two decades. No one knows exactly when a disaster will strike. Therefore, having foods that last for 25+ years will help you stand the test of time.
5. Cost Efficient
There are extra costs associated with investing in freeze dried foods. However, when you factor in the long shelf life, these foods are very cost efficient. You'll no longer need to restock your food storage regularly, which could save you a bundle in the long-run.
6. Easy Preparation
Before being freeze dried, the foods are prepared and trimmed down to serving sizes. They're then individually wrapped to avoid waste and leftovers. All you have to do is open a packet, add some boiling (or very hot) water, and eat away.
7. Lightweight
Do you know that the majority of the weight in food is caused by moisture? That's why freeze dried foods are so lightweight, making them easy to tote around during a trip or emergency evacuation. Removing the moisture makes freeze dried food weigh substantially less than canned or fresh food.
8. Less Storage Space
Freeze dried foods are condensed, before being vacuum sealed in high-quality Mylar bags. Even in bulk, meal packages take up much less space than other types of foods, such as canned goods.
9. Convenient to Carry
Because of the lightweight and condensed packaging, freeze dried food packages are very convenient to carry. They fit in the back seat or trunk of your car. Long-term food storage packages come in one big box, making it convenient to grab your goods and run.
10. Financial Emergencies
Food storage isn't just for natural disasters and man-made catastrophes. There are times when a financial crisis may hit, causing you to have to cut back on the way you usually shop for groceries. Having an emergency supply of freeze-dried foods will ensure that your family eats healthy meals until you're able to get back on your feet.