Preparing meals in a mason jar is becoming a trend today. You can prepare your meals in advance and grab it whenever you need it.
It is lightweight and handy. Travelers can eat their meals even if they're on the road using mason jars. Office workers can continue with their meeting and eat if they're hungry with the aid of jars. Furthermore, the servings in a mason jar are controlled, thus you can always watch what goes in your body.
Instead of buying expensive meals in the jar, go ahead and prepare it yourself. Check out some of the jar meals that you can try for breakfast, lunch, snacks, and dinner:
Breakfast
Breakfast is an important meal because it provides us with energy that we will need throughout the day. Studies have shown that those who eat breakfast are more likely to prevent illnesses than those who skip it.
Meals for breakfast are usually composed of fruits and vegetables, cereals, and proteins. These meals require minimal preparation but it offers vitamins and nutrients enough for the body. Check this out:
Eggs and Bacon
In this meal, the ingredients are two eggs, spinach, salt, pepper, cheese, and bacon. This recipe is made by Kelli.First, mix the two eggs in a bowl. Gradually add the spinach, cheese, and salt and pepper. Place it inside the jar and heat it in the microwave with water below. The egg will puff as it cooks.
Next, cook the bacon. Prepare the saucepan and put oil on it. As it warms up, put the slices of bacon. Cook it in low fire and make sure that it's well done. Cut the bacon into tiny pieces and add it to the eggs inside the jar.
Eggs and bacon are best with a toast and a coffee. This is indeed a delicious breakfast before going to school or at work.
Omelet in Jar
Are you looking for low carbohydrates and high protein breakfast in a jar? Then, the all-time favorite omelet is the answer. This recipe is made by Denise Wright of MyLifeCookbook.com.
This meal will require 20 minutes of preparation and another 20 minutes for cook time. Its ingredients are cheddar, sweet peppers, mushroom, spinach, eggs, yogurt, sausage, and olive oil.
To do this, sauté first the sausage and sweet pepper with olive oil in a pan. Next, mix the eggs, cheese, and yogurt in a bowl and pour it into the mason jar. Bake it in the oven with water and wait until it cooks.  Top the omelet with cheese for a delicious and sweet meal!
Oats and Fruits
Oats for breakfast is everyone's favorite. This recipe is from Jamie Oliver's website. To do this, the ingredients are 200 grams of oats, dried fruit like blueberries or cherries, apple, flax seed, milk, banana, yogurt, and mixed nuts.
First, combine the dried fruits, oats, milk, flax seed, and mixed nuts in the bowl. Then add some apples or banana on it. Put it in the mason jar and store in the fridge after mixing.
It will be best to prepare this meal the night before, so the milk will soak on the oats. As to the nutritional value, this meal has 280 calories, 20 grams of sugar, 6 grams of fiber, and 8 grams of fat.
Blueberry Pancake
Another breakfast to try is the blueberry pancake. To do this, the ingredients needed are 1 cup of flour, 2 tablespoon sugar, 1 tablespoon baking powder, 2 tablespoons melted butter, 3/4 cup of milk, and blueberries.
First, combine the flour, sugar, and baking powder in a clean bowl. Whisk it carefully until all the ingredients are combined. Then, gradually add the butter and the milk as soon as the batter forms.
Then, place blueberries in the mason jar and top it with pancake batter. Microwave it for about a minute or until the batter rises from the jar.
As soon as the pancake cooks;  top it with more blueberries, syrup, or cream.
Lunch mason jar meals
Eating lunch will make you focused with the workload for the rest of the afternoon. It is not necessary to be expensive and complicated, but it must be filled with nutrients and minerals that your body needs. Here are some of it:
Sushi in a jar
If you are obsessed with Japanese food, you can try preparing a sushi for your lunch. This recipe is made by Krista and Jess's blog. Instead of buying a sushi, you can do it at your home and store it in the mason jar.
The ingredients for this recipe are 3/4 cup of cooked rice, one tablespoon vinegar, 1 teaspoon of sugar, 1 teaspoon soy sauce, one sheet of Nori (edible seaweed), 1/4 cup of cucumber sticks, 1/4 cup of shredded carrot, 1/2 cup diced avocado, lime juice, ginger, and wasabi paste.
The first thing to do is to heat the vinegar and the sugar in a pan. Then in a separate bowl, put the cooked rice, soy sauce, and the sugar-vinegar mixture. Mix it slowly.
Prepare all the vegetable and fruit ingredients. Cut the cucumber into sticks and shred the carrots. Peel the avocado and slice it. Put the diced avocado in a bowl and put some lime juice on it to prevent browning.
Next, pack the ingredient layer by layer in the mason jar. Use the spoon to put all the ingredients together. Put first the Nori sheets, rice, carrots, rice, ginger, avocado, and cucumber. Top the sushi layer with a sheet of Nori to protect the other layers below. Add wasabi at the top as an option.
Pear and Pomegranate Salad
Who says salad is boring? Salad can be delightful and you can have it in mason jars too! This Pear and Pomegranate Salad is courtesy of Julia Mirabella, Food Network.
For this salad, the ingredients needed are one piece of pear, 3 cups of spinach leaves, 1/2 cup of pomegranate seeds, 1/4 cup of pecans, 2 ounces of bleu cheese, and sherry vinegar.
First, put the sliced pears at the bottom of the jar. Add some spinach leaves, pomegranate seeds, another spinach, pecans, and bleu cheese on top of it. Finish it with sherry vinegar and cover the jar. Refrigerate it before eating.
Buttermilk Soup
Do you love soups for lunch? Then you can try this buttermilk soup made of corn, basil, and peach by Anna Olson.
To do this, the ingredients needed are 2 tablespoons of virgin oil, 2 cups of corn, 1 cup of peeled peaches, 1/2 cup of onion, 1 cup of basil leaves, 4 cups of buttermilk, 1 tablespoon of honey, and salt and pepper.
First, sauté the onion with oil in a pan. Then, add the corn and cook it until it is tender. Remove it after 5 minutes and let it cool.
Using a food blender, mix the corn, basil leaves, and peaches. Pour the buttermilk and the honey while mixing. Then, pour the mixture into the mason jar and season it with salt or pepper to taste. Add basil leaves and corn at the top for decoration.
Noodle soup
Another amazing lunch meal is this noodle soup by Veggie Belly. This noodle soup can be prepared the night before so you can just add hot water on it during lunch time.
For this recipe, the needed ingredients are 1.5 ounces of noodle stick, 1/2 teaspoon lime juice, one tablespoon of soy sauce, garlic powder, ginger, 1/2 cup shredded carrot, 1/2 cup shredded cabbage, and spinach leaves.
First, make sure that the noodle stick is cut into smaller pieces. Then, add the lime juice, soy sauce, garlic, ginger, carrots, spinach leaves, and cabbages in the mason jar. Next, add the noodle stick.
When you're ready to eat the noodles, you just need to add hot water to it and cover the jar. Wait for the water to soak for about 5 minutes before eating the noodles. Use chopsticks to eat the meal.
Dinner jar meals
After a whole day of work, you deserve a food treat. These recommendations are hassle-free and will require simple ingredients. Check this out:
Lemon Pesto Pasta
Of course, pasta is one of the best meals for dinner.This recipe is made by Chef Scot of Aldi Craves.
The ingredients are parsley, pasta, chicken, tomatoes, mushroom, spinach, cheese, olive oil, cashews, garlic, lemon juice, and salt and pepper to taste.
First, mix the parsley, spinach, garlic, cheese, cashew, and olive oil in a food processor. Add salt and pepper and lemon juice to taste.
Pour the ingredients in the jar and add some tomatoes, mushroom, olives, and chicken. Next, top it with cooked pasta and cheese.
Cornbread with chili
Another classic dinner recipe that you can now store in the jar is the cornbread with chili. This recipe is made by the Pleasant Pantry. 
The ingredients are ground beef, turkey, or any meat. This recipe will also need to use 1 green, 1 red, and 1 yellow pepper. Then, it will require one can each of kidney, black, and white beans. Next ingredients are the sweet onion, one can corn, diced tomatoes, and olive oil.
For the chili mix, you will need a chili powder, cumin, onion, garlic powder, paprika, and salt and pepper. For the cornbread, you can use any corn meal. Meanwhile, for the toppings, you will use a sour cream, bacon pieces, Tabasco, and chives or green onions.
To do this, heat the meat in a pan. Add the peppers and onions. Next, add the chili mix, tomatoes, and water. Lower the heat and add all the remaining ingredients.
Next, fill the jars with the chili mixture and cornbread. Bake it in the oven with water. Top it with sour cream and bacon, Tabasco, and chives; and now you have a lovely dinner!
Chicken Broccoli with Rice
Another delicious meal to try is the Chicken Broccoli with Rice. This recipe is made by Preparedness Mama. In this meal, the ingredients are 1 cup white rice, 1 cup chicken, 1 cup cheese powder, salt, onion, 1 cup dried broccoli, and celery.
First, mix all the ingredients in the mason jar. Then, put some water in a pan and simmer the mason jar inside it until the rice and the chicken cooks. The meal will cook in 20 minutes and you can now enjoy it.
Quinoa and Avocado
If you are looking for a healthy dinner option, then you can try the Quinoa and Avocado dinner meal in a jar. This recipe is made by Katie at the Kitchen Door, as featured in Greatist blog.
This recipe will require 1/2 cup of quinoa, chopped broccoli, 3 ounces of Parmesan cheese, nuts, garlic, olive oil, avocado, salt, lemon juice, mushroom, and 1/2 tablespoon of butter.
First, put water in a pan over low heat and add the quinoa. Cover it and let it simmer for about 15 minutes. Next, roast the broccoli, garlic, with olive oil and salt in the oven. Let it cook until it turns brown.
Next, blend the remaining broccoli, avocado, garlic, oil, and cheese in a food processor until it produces a soft puree. You can also add lemon juice and salt to taste.
Cook the nuts and the mushroom using the butter in a saucepan. Then, mix the pesto mixture, nuts and mushroom, and the quinoa in the mason jar.
Snacks/ Desserts
With mason jars, you can now bring your favorite snacks or desserts anytime, anywhere. Some of these recipes require minimal ingredients and you'll surely love it.
Chia Pudding
You'll only need three ingredients for this recipe and these are coconut milk, Chia seeds, and honey. This recipe is made by 'Say Yes!' You can also put some vanilla for this meal but this is optional.
Mix all the ingredients together and put it in the mason jar. You can also add fresh fruits such as cherries on the meal and refrigerate it.
Rainbow cake
You can also prepare a cake and bring it to your school or at work. This meal can be shared with your friends and loved ones. This recipe is made by Brooke Mclay of Babble. 
This menu will need a white cake mix, food colorings such as red, yellow, blue, and purple, vanilla frosting, and sprinkles. Prepare five mason jars too.
To do this, put the white cake mix in each jar and add water. Put some food coloring in each mixture. Next, bake it in the oven with water.
As soon as the cake is done, scoop each color and put it on the empty mason jar. Add some vanilla frosting and top it with sprinkles.
Conclusion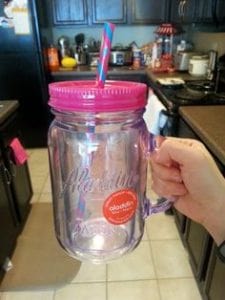 Mason jars are used in the society to preserve food since 1858. These glass jars are better than plastic because it keeps food safe and it enhances food flavor. Its cover can prevent bacteria and germs to contaminate the food. Mason jars can be put it in the oven with water and resist heat than other brands.
Many food businesses are using mason jars for their products because it is eco-friendly and it looks good too. Modern homes also use mason jars because it is easy to clean and reuse for next food preparation, unlike other kitchen tools. Lastly, it is a good investment and it is affordable than expensive kitchen wares.
The above-mentioned meals are some of the options to can choose from. Create your own meals and use your imagination in food preparation!