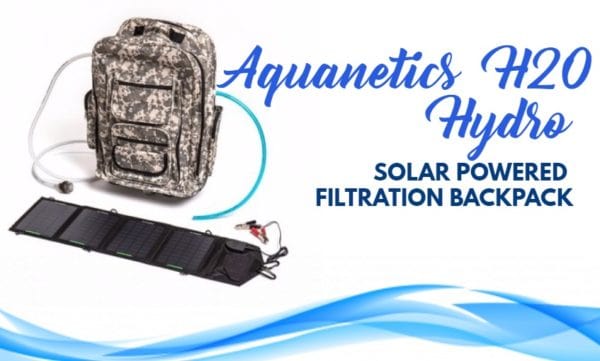 The solar powered filtration system is a type of water purification technique which utilizes the solar energy to produce safe drinking water.
It uses electricity generated by the solar panels. This can power the water filters and eliminate the chemical structure of pathogens in the water.
This system can store solar electricity from a battery and can function at a low light level or night time. The solar water filtration system is an effective and innovative water treatment solution and it is even recommended by the World Health Organization (WHO).
Meanwhile, there are now portable solar powered filtration products such as backpacks that you can use especially during emergencies. It is designed to be that way so you can produce clean water and bring it wherever you go.
In this article, we will discuss the history and benefits of using a solar powered filtration system. We will also cover one of the best solar powered filtration backpacks that you can try today, which is the Aquanetics H20 HYDRO.
History of Solar Powered Filtration System
The solar power technology has a long history. The photovoltaic effect via an electrode exposed to light was observed as early as the 1800s. But only in the 1950s did solar cells were commercially distributed. In the 1970s, the White House Capitol in the United States was the first establishment to install a solar panel.
In the early 2000s, the use of solar panels for water purification began to help communities have access to clean water even if they don't have electricity.
Meanwhile, the Solar Backpacks were patented by Jon Bihn only in September 2008. There was an increasing number of Americans who spend most of their time outdoors. Thus the demand for adventure tool and equipment such as the solar powered filtration backpack increased in numbers.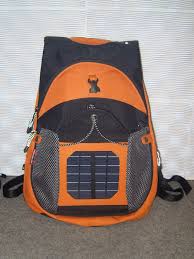 Solar backpacks are a type of bags that are carried on one's back with two straps over the shoulders. Today, it is equipped with multiple solar cells plus batteries. The solar panels that come with the backpack can convert solar energy into electricity and store it in the batteries. This energy can power gadgets we use during outdoor activities.
These backpacks usually contain solar panels, plugs, battery, charge controller, cords, and connectors. It can provide the user of up to 120 watt-hours per day that can power equipment rated up to 300 W.
Nowadays, solar backpacks have various features including a water bladder and filtration system. This has helped people who travel in the wild or someone who wishes to survive an emergency.
Benefits of Solar Powered Filtration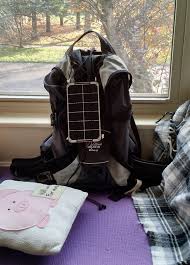 Solar backpacks are easy to carry and it is lightweight. It also features green energy source for the environment. It can decrease the use of energy and the reliance on electricity.
Moreover, these backpacks can help produce clean water during disasters. It can prevent the spread of communicable diseases which are from water in the river, springs or the tap.
Indeed, people can survive many days without food but they won't last long without a steady supply of clean water.
Aquanetics H20 HYDRO
This time, we will discuss one of the best solar powered filtration backpack, which is the Aquanetics H20 HYDRO.  
Aquanetics H20 Solar Life Water Technologies
Another solar-powered filtration backpack is from the Aquanetics. The Aquanetics H20 is proudly made in the United States. The company aims to create a sustainable solution in eliminating contaminants in the water and make it safe for drinking.
They have shipped their product in Canada, United States, Indonesia, Haiti, Honduras, and the Dominican Republic.
Currently, Aquanetics H20 partners with Safe Castle, PrepareWise, Lehman's Hardware Store, 1220am, Hebrew Nation, and Ready Made Resources.
Aquanetics H20 HYDRO Features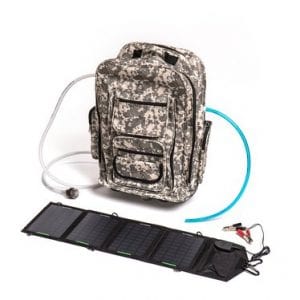 The Aquanetics H20 can eliminate pesticides, herbicides, chlorine and its by-products in the water and make it safe for drinking.
The product features 1-micron sediment and active carbon filter that can also remove bad smell and odor. It can filter up to 0.5 microns of contaminants on it. The Granular Activated Carbon (GAC) filter can be replaced every 3,000 gallons of filtered water.
Furthermore, it can disinfect water and make it 99.9% pure. With its Germicidal UV-C light, it can eradicate hepatitis, typhoid, malaria, e-Coli, and other bacteria and viruses found in the water.
This product features a 14 watts and 12 voltages DC Solar Array. It is portable, foldable, and can easily recharge the power supply of your HYDRO.
This product can clean more than 100 gallons of water each day or one gallon of water each minute. It features a 4-stage germicidal filtration system.
It includes a fresh water inlet hose that contains Stage 1 connection and strainer. This innovation is certified by the National Sanitation Foundation (NSF) and it can remove large particles in the water. In addition, it has a Fresh water outlet that can dispense purified and fresh water. It is complete with medical grade connection.
Aquanetics H20 HYDRO Specifications
You don't need any electricity on this product and it functions through the solar power. This product has a solar charger with alligator clips and 5 voltage USB. It can charge even your cell phone and 12 voltage car battery.
It has a portable design featuring the wheels and a retractable handle that you can transform into a suitcase or a backpack. The bag includes a cover which is bacteria and water-resistant.
The product has been awarded NSF 42, 51, and 61 certifications. It has USP Grade VI Medical Certification, approved by Food and Drug Administration (FDA), and exceeds World Health Organization's (WHO) standards.
The HYDRO can be used for emergencies, camping, disaster relief operations, and remote villagers.
The product measures 10 1/4″ x 17 1/2″ x 23″ and weighs about 25 pounds only.
Package Inclusion
The package includes the following parts:
Folding solar array which is available at 14 watts and 12 voltage. It includes connections and charge controller.
12 voltage power supply
Hydro Purification system
110 voltage float charger
Three Micron sediment filters
5 Micron Granular Activated Carbon (GAC) filter
Canister wrench
Stabilizer cylinder
Stage 1 inlet hose with connect
Purified water outlet hose with connect
Aquanetics H20 HYDRO Feedbacks from Customers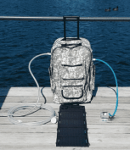 Some customers would agree that the Aquanetics H20 HYDRO is one of the best solar powered filtration backpacks.
First, it can eliminate foul smell, bad taste, and large particles in the water, unlike other water filters. It includes 4-stage of water filtration with its granular activated carbon and germicidal UV-C light. Thus, you can safely fetch water on the river, put in your water bladder, and drink it.
Second, the bag is lightweight and adjustable. You can use it as a backpack or a suitcase. It also contains complete tools such as water hoses, batteries, and connectors. The solar panels are adjustable and you can charge some of your gadgets on it too.
Lastly, it can filter up to 100 gallons of water, which is more than enough for an adventurer who spends few days alone in the wild.
On the other hand, some customers might complain that the product is impractical since its solar panels are not built-in in the bag. Others would also say that it is a bit pricey. However, this is a good investment since it contains awesome filters, solar panels, and battery.
Tips for Buying a Solar Powered Filtration Backpack
The demand for the solar panel backpacks is increasing nowadays because of the catastrophes we experience in our environment. Some of these instances would cause a huge effect on the supply of power in countries around the world. Moreover, solar power backpacks can provide ample power source for those who choose to spend time outdoors to relax and unite with nature.
Unfortunately, we cannot go totally free of gadgets as we hike or stay outdoors because of various problems such as the lack of clean water. Thus, the solar powered filtration system is a practical solution that relies on solar energy which is converted to electricity that can power and charge multiple devices.
However, take note that not all solar powered filtration backpacks are the same. Thus, you need to familiarize yourself with these tips:
Opt for built-in solar panels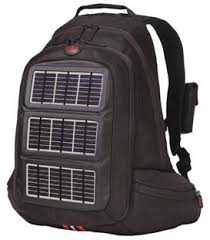 Solar panel backpacks differ depending on the design and functionality of the manufacturer. It would be best to look for products with built-in solar panels in the unit to avoid problems like damaging the solar panels or having charging issues on the unit.
Built-in solar panels are also easy to pack-up and always on-the-go!
In buying for a backpack, also take note of how much power you will need. This will help you decide how big the panels you must buy plus the battery's storage capability.
Not all solar powered backpacks include a battery pack, so be conscious of that too.
Flexibility of battery chargers
There are solar powered backpacks that can recharge specific battery types only like AA or AAA batteries since these are the most common battery types nowadays.
Thus, it is highly recommended to buy a solar powered backpack that is flexible in the batteries they can charge.
This will eliminate the need to carry bulky battery chargers. If you can find a unit that can charge and power your water filtration and some gadgets, then this will be the best type of solar powered backpack for you.
Choose a good quality battery packs capacity. Choose those with a minimum of 2,000 mAh.
Get an extra solar panel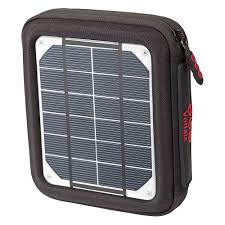 Many people who buy solar powered backpack believes that it is enough for their need only to find out that they require more power. Thus, you might consider adding an extra solar panel aside from the built-in panels on your backpack. It is convenient, easy to install, and lightweight.
You can hang them on your backpacks and harness more energy from the sun in a short period of time. Furthermore, apart from extra solar panels, consider as well to look for extra connectors for your water purifiers.
Direct power connection
Solar panel backpacks will allow you to directly connect your devices and water filtration system using USB connectors. This functions similarly to a wall outlet inside your home where the electricity can flow directly from the source to the gadget being powered.
The device may not be charged completely by the solar panel, but it will keep it running continuously.
This feature will be very helpful especially during emergencies when you need to charge a device or produce a clean drinking water right away.
Weather proofing
One of the most important features of a solar powered backpack is it must be weatherproof. In the wild, you cannot control the weather. It could be sunny and rainy all at the same day. If you buy solar panel backpacks without weatherproofing, the rain can destroy the backpack and solar panels altogether.
During the first years of the introduction of solar panels, they were installed in special casings. But today, solar panels have this thin-film material that will enable flexibility in its usage, so you can opt for these types of products.
Durability
Lastly, the solar powered backpacks must be durable since you will be using it most of the time outdoors than indoors and possibly in hard to reach terrains.
The durability of the units depends on the design of one manufacturer to another. Take note that there must be no glass component on the unit to prevent breakage. In addition, choose brands that are adaptive to the kind of environment that you'll probably use it.
The solar energy is one of the stable energy sources today. To maximize the benefits that you get from it, you must have a device that will not only harness its power but will serve your needs accordingly. Familiarizing yourself with the above-mentioned tips will help you get the best solar powered backpack based on your needs.
Conclusion
In sum, solar energy can save our lives, especially during disasters. With its unlimited power source, the bright scientist of our generation was inspired to create innovative products to make our life easier.
With the proper tool and gear, we can now produce safe drinking water using the power of the sun. One of those products is the Aquanetics H20 HYDRO.
Indeed, there are more advantages than disadvantages in using Aquanetics H20 HYDRO. And that is because the company has spent years of research to make this product helpful for us consumers.