The world is such a large place that we definitely find ourselves curious for more. We ask ourselves questions like, "What more does the world have to offer?", "what is beyond the other side of my continent?", "what are other cultures like?" and other questions a like. So, we find ways on how to answer those questions that continue to play our minds. One perfect way to do so is through Backpacking.
The Wonders of Backpacking
Backpacking is an cost-friendly way to travel or explore the world. Basically, you just carry with you a handy backpack that could carry the essential things that you only need. Such as, a few and comfortable clothes, grooming kit, cellular phones or gadgets and money.
Backpacking is indeed a fun recreational activity to do because you do not only explore, but you get to channel the inner cowboy in you. How? You only brought yourself a limited supply of all resources that is needed for the trip. The beauty of backpacking is to make the most of what you got, while still enjoying the whole trip.
Furthermore, it is convenient in such a way due to its light-weight being. So, you do not need to worry anymore about carrying tons of bags from one hand to another. You will not find yourselves in uncomfortable situations such as sitting at a bus or waiting in a ticketing line. For the sole reason that you only have one reasonable weighing bag that is just the perfect size to keep you mobile in your trip.
Backpacking could be done anywhere! It may include locally travelling to nearby areas in your region, hopping from one country to another or wilderness adventure. But, whatever it is that you will choose there is one thing that you should prepare always- Freeze dried food and dehydrated meals for backpacking.
The Importance of Meal Planning and Preparation when Backpacking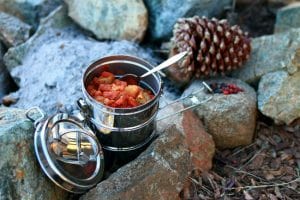 It is only but important to always prepare yourself with some meals and snack just in case hunger may kick in at any time. Especially, if you are the type of person who loves venturing out in to the wild. There is less likely sources of food that you would want to eat, and even may not be edible in that matter. So, you would not want yourself to undergo starvation while on a mission to enjoy your escapade. Therefore, it is essential that you include in your backpack some easy-to-prepare and ready-to-eat meals at any time of the day. This is to keep you on the go, ready and energized to face the adventures ahead.
The question though is, "what kinds of meals should you pack?". Indeed, that is a reasonable question because the main purpose of backpacking is convenience. Hence, you would not want to carry around food with you that would give you a heard time.
Factors to Consider in Choosing your Meal
The types of food that you would want to bring are those that are not difficult to prepare, such as:
Non-soup food. This is to avoid any spilling inside your backpack.
No refrigeration needed kind of food. The refrigerator is one big thing that you may not find accessible during backpacking. Not only that, but it could eat up your time as well if there is a need for refrigeration. Which could ruin the whole itinerary of your planned trip.
Does not need an excessive amount of effort and time. For example, do not think about having steak for lunch or croissants for breakfast. These are time-consuming and energy-costly food, which defeats the whole purpose of convenience. You should always consider the ease of your preparation and just keep things simple.
The Size and weight. You need to bring a kind of food that does not consume a lot of space in your backpack. Most importantly, does not add on an excessive amount of weight to it.
Nutrition and Calories. Backpacking is definitely a fun activity, yet, can also be tiring and even draining. So, you need to bring food that are rich in protein and calories, that can give you the energy you need to carry all throughout the day. Moreover, it is not the right time to be conscious about your diet during backpacking. You need the sufficient amount of energy as possible to prevent from getting headaches and fight off the fatigue. So, do not rely on protein bars or candy alone, it is always important to eat right.
The Food Dilemma During Backpacking
Backpacking is one of the most fun-filled activity that actually puts you in a state of dilemma. The dilemma is usually choosing between good food or the easy ones. The difference between the two is the time and ease of preparation. All in just before you get yourself fed from the hunger you obtained from the long hour activities you have been doing.
It is possible that you can choose to have steak or pasta for dinner. However, you need to keep all ingredients fresh for you to actually enjoy your full course meal. In that case, it is impossible to do so, due to the lack of resources and utilities. You need to have the patience and the proper equipment to use, in order to achieve the perfect steak or that savory pasta.
On the other hand, if you come to realize that that is definitely energy and time consuming, then you settle for canned goods or MRE's. Canned goods or MRE's are not quite a thrill to be consuming on too. For the reason that, they are not quite that digestible, more so healthy.
10 Best Freeze Dried Food and Dehydrated Meals
Finally, a new discovery has been made to avoid all the conundrum and fuss between deciding what to actually munch on. The perfect and effective remedy to your dilemma is Dehydrated food and Freeze-dried food.
This type of approach has become the go-to choices when backpacking for decades now. Surprisingly, it provides you with tasty and healthy food to consume. Not only that, but the manufacturers have kindly provided their consumers with a wide variety of choices. These choices are just as fantastic as ordering in a three star restaurant. They can go from delicious puddings and rich beef stews to practically freshly tasting vegetables that could seem as if they were just picked freshly from a farm.
Furthermore, you will come to find that these type of food preparation are convenient, easy to pack, the type of food that you would want to eat and still gives you the nutrients and energy you need to keep you fueled for a long adventure of backpacking.
Below you will find a list of items of what we think is just the perfect choice for every backpacking adventure. The description of each product is based from the manufacturer's themselves.
Mountain House
The Mountain House has been on the industry for more than 50 years now. They are known for being the first ones to provide efficient meals for the US Special Forces. They have designed their products with versatility that makes it capable even from the depths of the ocean to the peak of the Everest. Their products promise to provide quality food in any climate or situation.
A few of their best products are:
Beef Stroganoff with Noodles – this is composed of Tender pieces of beef, tasty onions and mushrooms blended in a savory cream sauce over a bed of egg noodles.
Chili Mac with Beef – This consists of pillow-like macaroni noodles, savory precooked beef and yummy kidney beans in a tasty chili sauce. The freeze dried Chili Mac is the all-time go-to freeze dried food of every customer. All you have to do is to add hot water and then you have yourself a tasty, hot meal in just a span of minutes.
Neapolitan Ice Cream Bar – This is made with real creamy ice cream. This particular brand incorporates together chocolate, vanilla and strawberry flavors that are blended perfectly to create an enjoyable and yummy dessert. What is amazing about the Mountain House Neapolitan Ice Cream Bar is that it does not melt at all. It is ready for eating right off the pouch! You need not to worry about the dripping mess that follows usually when eating ice cream.
Spaghetti Sauce with Meat Sauce – Mountain House Spaghetti with Meat Sauce gives you that wholesome, comforting flavor of Italian cooking in hardly any time at all. Tender spaghetti noodles, hearty chunks of beef, rich marinara sauce – what's there not to love?
Good To-Go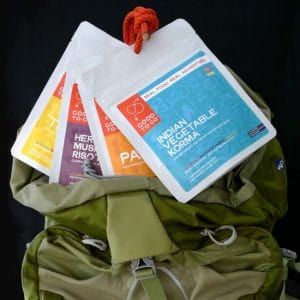 Jennifer Scism, an accomplished Chef and the co-owner of the nationally recognized restaurant in New York's Greenwich Village, Annisa, is the founder of Good To-Go. Basically, Scism is an advocate and promoter of having easy access to good food. Her culinary background included: working, more so, cooking at NY Times 4-star rated restaurants, travelling to over 20 countries to study regional cuisines and has defeated the Iron Chef, Mario Batali, on the TV Food Network's Iron Chef program.  Therefore, we could definitely say that she knows her way in the culinary world.
The birth of Good To-Go started soon after David and Jennifer met. They were fond of going in to outdoor adventures. They spend days and nights with their outdoor trips and along with that is the need to look or find something to eat. Jennifer had a hard time looking for something that is fresh and delicious. Not to mention, that she was already full of all the available packed meals in the area.
During that time, wherein she maximized her cooking knowledge and expertise and created something that she never thought would be very beneficial. Jennifer had began dehydrating her favorite go-to meals in her counter-top dehydrator. After so many experimentation and tries, her and her husband, David Krootis, the co-founder of Good To-Go, was able to make one of the best discoveries in the history of food preparation and food in general.
Thai Curry 

If you are fond of spicy cuisines and want them done easily, this would be the right choice for it. The spicy yellow coconut curry was Good To-Go's first meal to win the Backpacker Magazine Editors' Choice Award in 2014. Up until now, it is still a favorite among Good To-Go loyalists. The pack or pouch consists of broccoli, cauliflower, peas, green beans, Thai chili, coconut milk, lemongrass and tamarind all contribute to the wonderfully smelling and tasting curry. Furthermore, it is gluten-free and has a 4-year shelf life.

Classic Marinara with Penne – There is nothing more comforting than a steaming bowl of slow simmered marinara sauce over noodles. Our classic Italian tomato sauce is served with the best brown rice penne we could find.
Backpacker's Pantry

Backpacker's Pantry started in the year 1951 and was headed by Ann Benedict. At that time, the main objective of the company was to supply the Girl Scouts with lightweight, nutritious food for their trail. After two decades, the Smith Family bought the company and is, up until now, the ones managing the whole operation of the company.
Colorado Omelet –  All-natural, free-range eggs with a scramble of cheddar cheese, bell peppers, and onions. The Colorado Omelet is formerly known as the Denver Omelet. It is rich in protein, low in sodium and requires minimal cooking.
Directions: Remove and discard enclosed oxygen absorber before beginning food preparation. Add 1/2 cup (120 mL) of water. Blend. Add another 1/2 cup (120 mL) of water. Blend until smooth. Cook over low heat in a nonstick pan. Stir frequently.
Louisiana Red Beans and Rice – A true Cajun classic! This simple dish of red beans and rice is tossed with a Creole sauce and a delicious spice of Cajun flare. It is Gluten-free, dairy-free, nut-free and organic.
Directions: Remove and discard enclosed oxygen absorber before beginning food preparation. Add 2-1/2 cups (600 mL) of boiling water. Stir well. Seal and let sit for 15-20 minutes. Stir and serve. Rehydration time doubles every 5,000 feet of elevation gain. Our directions are set for 5,000 feet.
MaryJanesFarm Organic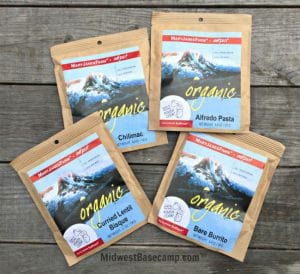 MaryJanesFarm Organic is perhaps the active promoter of using all-natural and organic ingredients
Shepherds Meat Pie – This product is made with all-natural, organic ingredients. The steps are simple when preparing the Shepherd's Meat Pie. All you have to do is mix everything up, add boiling water, stir and let it sit for a few minutes before serving.
Garlic Pesto Fry Bread – Another product that is made with all-natural, organic ingredients.