My Patriot Supply is an online store for survival products which was founded in 2008 to help people meet their goals of self-sufficiency and emergency preparedness with affordable, quality products.
When it comes to emergency preparedness, some people might be prepared with some supplies, but are they really prepared to survive? It takes more than a few supplies.
Whether you believe the future includes an apocalyptic end to life as we know it complete with intense solar flares, reversed polarity, and super volcanos or a glorious rebirth for the virtuous or that nothing on that scale will ever happen, it's still a good idea to have survival supplies.
You never know when a natural disaster or some other unforeseen event is going to limit your ability to live as you do now and force you into a preservation mode.
Over the past few years, we have seen numerous earthquakes, hurricanes, tornados, and man-made catastrophes that have caused people to be without power, fresh water, food, and energy. Preparing for these events will help ensure your survival when civilization as we know it suffers a breakdown.
It is highly recommended that you build your supply by starting with the survival gear that will meet your most basic needs first. Get high-quality items that will last a long time when you can. But if you're on a budget, get the most basic survival gear to meet each need until you can afford to upgrade.

One of the competitive survival stores that are dedicated to self-sufficient emergency preparedness products and services is My Patriot Supply. It provides a wide variety of high quality, affordable products geared toward self-preparedness and self-sufficiency. The company claims that unlike their competition, they're focused on helping customers achieve their self-sufficiency goals, instead of using scare tactics to sell more products.
According to their website, other websites and companies which specialize in survival products spend most of their time and energy in fear mongering.
They produce videos and literature telling people that the United States or even the world is on the brink of a disaster and that in times of emergency FEMA and the Federal Government will be enemies of the people, taking their homes and food supplies and making it hard to survive.
My Patriot Supply Products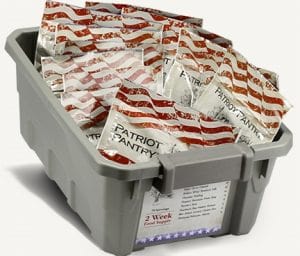 The My Patriot Supply website is divided into three main sections:
Heirloom Seeds
This appears to be the most popular section on the My Patriot Supply website. All seeds come with a "Non-GMO Safe Seed Pledge," which means that those purchased from the company are guaranteed to be free of genetically modified material. Seed categories include vegetables, herbs, fruits, flowers, and more.
You can also purchase several different seed vaults, which include 20 different types of seeds, all enclosed in protective packaging that keeps them viable for up to five years. If you purchase three seed vaults at any one time, My Patriot Supply will automatically take $15.00 off your order.
Preparedness
This section of the My Patriot Supply site contains some of the more expensive items, including water treatment & storage, survival gear, emergency lighting & power products, and much more.
This includes the following.
Ultimate Breakfast Kit
Breakfast is the most important meal at most. My Patriot Supply even consider it as the tastiest! This yields a wide variety of filling and delicious foods to your emergency food supply for breakfast.The Ultimate Breakfast Kit pack contains 138 servings. This has everything you want for your best meal! You can enjoy hearty favorites like Potatoes O'Brien and Buttermilk Pancakes. Get the nice kick of the day for Orange Energy Drink Mix and yummy Strawberry Fields Cream of Wheat. Power through with a helping of Scrambled Eggs.
Preparedness Survival Tote
This kit is considerably the all-in-one kit you would ever want especially to newbies of preparedness. This little kit combines a number of useful items in a compact format. The survival tote is perfect for an emergency carry one in my vehicle added a 7 day supply of Patriot survival rations it comes with everything you need radio flashlight waterproof matches pot to cook in the food is good. This item is recommended for anyone that wants to be prepared for an emergency.
Guide 10 Plus Adventure Solar Kit
As for  pepper, traveler, and homeowner this Solar Kit is perfect to have anytime you are without electric. An essential to have in an emergency situation when you have no power and need to charge life-saving items. Kit includes four rechargeable AA batteries and handy built-in LED flashlight to search your dark backpack or purse. This Small and compact USB Solar Charging kit is enough to carry with you always and power up anywhere. Have the power of the Best Selling USB Solar Charging Kit and keep yourself powered on the go!
Features
This section features new arrivals, wholesale products, and a link to the My Patriot Supply Survival Blog. If you're looking to save some money, take a look at their Deal of the Day section, which features one product at a reduced price, but is only listed for a period of 24-hours.
What's More Included
In your food supply kit, you get access to a number of tasty breakfast, lunch, and dinner meals. Some of these include the company's maple oatmeal recipe, with more than 200 servings. You also get a cream of wheat in "Strawberry Fields" flavor, and orange energy drink mixes to last for a year.
These are just a few of the breakfast items you'll get. For lunches and dinner entrees, you'll be able to choose from Italian lasagna, corn chowder, traveler's stew, and Granny's Potato Soup.
You get 60+ servings of mac and cheese, cheddar soup, chicken rice, chicken noodle, cheesy broccoli and rice soup, and garlic mashed potatoes. Desserts include chocolate pudding, honey coated banana chips, and more.
Why Choose My Patriot Supply Food?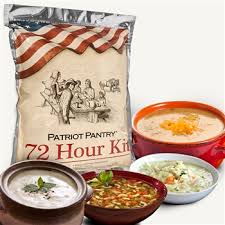 Everyone who feels it's important to be prepared for disaster knows that when an emergency strikes, you have to have food on hand. If you don't, you'll have to deal with competition for resources, scavenging, and probably resorting to the worst case scenario to feed yourself and your family.
With My Patriot Supply, not only are you prepared for the event of any type of natural or manmade disaster such as flooding, serious tornadoes, and hurricanes, or economic collapse, but you're also able to provide for the whole family. The one-year food supply has more than enough for your whole family and offers premium nutrients at an affordable rate.
Benefits of My Patriot Supply Food
In addition to the peace of mind, you'll get from knowing you are prepared for the worst, My Patriot Food is some of the best out there in terms of freshness and nutrition. Each meal is cooked in a special Grade-A kitchen by chefs selected from the top around the country.
Their meals are specially packaged and sealed in Mylar packaging to ensure freshness and storage capacity. For this reason, My Patriot Supply Emergency Survival Food is one of the best brands to choose from.
You'll also be able to order as much as you'd like since the company offers select free shipping to certain areas and orders, as well as a refund policy if you aren't happy with your purchase. Their customer service is helpful and friendly, ready to assist with any questions or concerns you may have.
Ordering My Patriot Food is a great way to start stockpiling fresh and healthy meals for the event of a major catastrophe.
As anyone knows, it's vital to be prepared for the worst; you simply never know when economic collapse could strike, or a major natural disaster might hit. Rather than having to depend on others for help, you can prepare yourself, making sure that yourself and your family are well-fed and ready.
And what's more, your meals won't taste like they came from standard-issue military grade packaging — they'll be delicious, just like a home cooked meal that has been stored for later consumption.